For well over 100 years, it has been a rite of passage for fathers to teach their sons and daughters to shoot.  The reasons vary, but include bonding with children, introducing them to hunting, and (especially) ensuring that they have an understanding of the safety rules, and to never touch a gun without an adult around.  In teaching young people (often at age 10 or above, but that is negotiable), there are two specific types of guns that have proven to be the safest and easiest, depending on the immediate goal:
If introducing the child to hunting, the .410 shotgun.  This fires a very small shell, with not a lot of recoil.  It is suitable for upland game, and is a great stepping stone to the smaller center fire rifles, like the Winchester .243.
If introducing a child to target shooting, or if that child might not be up to killing an animal, a great choice is the venerable .22 LR bolt action.  Note that this is not the same as .22 WMR (Magnum).
In both cases, one of the great benefits is that, being a long arm, it is very difficult for the child to shoot himself.  Of course, the child needs to be closely monitored to make sure they strictly observe these rules of gun safety:
NEVER ALLOW THE GUN TO POINT AT A PERSON OR PET
KEEP YOUR FINGER OFF THE TRIGGER UNTIL YOU HAVE MADE THE DECISION TO FIRE.
Unlike the shotgun, the .22 LR rifle has some features you should understand before buying one:
Action. Bolt-action, semi-automatic, lever-action.  If the student is under about 14, I recommend bolt-action.  These only load one cartridge at a time.  That is safer, and requires more focus on the operation of the rifle.  Bolt actions are more accurate than most semi-autos, and are used in competition.
Dry-fire Safe. The .22 is a rimfire design.  For over 100 years, "firing" one of these without a cartridge in the chamber could lead to damage to the firing pin.  Most modern designs are engineered around this problem, but that is not a guarantee.  It is hard for a beginner to avoid dry-firing the gun, so make sure that will not be a problem.
Sights. The built-in sights are called "iron-sights", or just "irons" (don't ask why).  An inexpensive .22 rifle will usually have these, but since this type of rifle is often used for precision target shooting, and that requires a scope, more high-end guns will often not have irons at all, but they do not come with a scope.  That is an additional purchase.  Expect a decent scope to cost at least as much as the rifle itself.  Sorry, but these are precision optical devices.
Threaded barrel. Probably not needed in this context.  A threaded barrel is required if you want to use a suppressor (silencer).  They are a lot of fun, but they cost more than the rifle.
Recommendations:
CZ 457 Scout          Bolt action.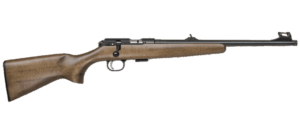 Savage MKII FVT Repeater          Bolt action.

Ruger 10/22          Semi-auto.

Smith & Wesson AR-15/22          Semi-auto.

All of these above come with iron sights, but have a rail for mounting a scope.